From: Munsup @SISCOM Seoh
Subject: FW: Hearing for Single Payer Bill; Trump ordered the firing of Mueller; No drilling on sacred Native lands and more
---
FW: Today's Headline: Every One of the World's Big Economies Is Now Growing
FW: NY Times: Trump ordered the firing of Mueller
FW: Burger King explains net neutrality..
FW: Call Sen. Portman: Save net neutrality
FW: MSU's president is out!
FW: Stop President Trump from … threatening 1,000 year old Pueblan artifacts and structures of immense cultural, historal and tribal value
FW: Sign if you agree: No drilling on sacred Native lands
FW: FW: Disgusting. Just Ban It.
FW: One year after the Muslim ban
---
---
is it safe to order isotretinoin online From: New York Times
http://asideofbooks.com/2019/01/29/california-abaa-book-fair-show-list-2019/?share=email Subject: NYT Today's Headline: Every One of the World's Big Economies Is Now Growing
Every One of the World's Big Economies Is Now Growing
By PETER S. GOODMAN
For the first time since the global economic downturn, there is a wave of expansion that is creating jobs, lifting fortunes and tempering fears of popular discontent.
---
From: Ben Betz; Digital Advocacy Director, People For the American Way
Subject: NY Times: Trump ordered the firing of Mueller According to the New York Times, Trump ordered the firing of Special Counsel Robert Mueller just one month after Mueller was tasked with heading the investigation into Russian meddling in the 2016 election.
Trump gave the order for the firing, through White House Counsel Don McGahn, who refused to carry it out and threatened to resign because he knew it would be crossing a bright red line.
Of course, Trump denies that this happened, despite multiple sources corroborating the story, calling the Times report "Fake News" and saying that he has no intention of interfering with Mueller's investigation.
But this is a stark reminder of how urgent it is that Congress protect the investigation — and the Republic itself — by passing the bipartisan legislation that has already been introduced to do just that.
Please add your name now to demand that Congress protect Special Counsel Robert Mueller's investigation!!>>

Even if you've already taken action to protect the investigation, please add your name here to make sure Congress keeps hearing from the American public about the urgency of protecting the investigation!
When Trump tried to have Mueller fired back in June, his supposed reason was that Mueller had conflicts of interest due to things like a previous dispute over his membership at a Trump golf club and his working for a law firm that had done some past work representing the Kushner family. It would have been a major stretch — truly laughable — and Deputy Attorney General Rod Rosenstein, who would presumably have been the one tasked with actually firing Mueller, would most likely have refused the order. That could have triggered a scenario similar to Nixon's "Saturday Night Massacre," in which Nixon's attempts to fire Special Prosecutor Archibald Cox led to the resignations of the DOJ's top officials, who refused to carry out that order.
Even IF Trump was successful in having Mueller fired on those "conflict of interest" grounds, then it wouldn't have stopped the investigation. A new special prosecutor would have been appointed. Would Trump have kept concocting reasons to fire each special prosecutor one after another?
Last night's New York Times report further clarifies a picture of a president who has zero regard for the law, zero regard for our democratic institutions, and zero regard for justice. Congress must act without delay.

Sign now: Tell Congress to protect the investigation!>>
---
From: Andrew J. Tierman
Subject: Burger King explains net neutrality..
or the loss of net neutrality rather.
see https://www.cnn.com/videos/cnnmoney/2018/01/24/burger-king-net-neutrality-whopper.cnnmoney/video/playlists/atv-trending-videos/
---
From: Brandy Doyle, Campaign Manager, CREDO Action from Working Assets
Subject: Call Sen. Portman: Save net neutrality
Call the Senate: Save net neutrality
Trump's FCC voted to kill the open internet, but Congress has the power to overrule it. Fifty senators have already signed onto a resolution of disapproval that would overturn the FCC's repeal of net neutrality. We need just one more, and Sen. Rob Portman has not yet signed on to save the internet. Call now.
Click below for a sample script and the number to call:
Fifty senators signed on to the resolution of disapproval to overturn the Federal Communications Commission (FCC) and save net neutrality.1 We need just one more.
If Sen. Portman signs on, the resolution will pass the Senate and move on to the House.
Call Sen. Rob Portman: Support the resolution of disapproval to save net neutrality. Click here to make your call.
When Trump's FCC voted to kill the open internet, they ignored millions of Americans and gave big cable companies control of what we say and do online.
But this fight isn't over. Congress has the authority to overturn the FCC's vote. Congress can use a "resolution of disapproval" to reverse this disastrous decision and restore the rules that protect the open internet.2
Thanks to the Congressional Review Act, Congress can review new regulations (in this case, the FCC's Orwellian-sounding "Restoring Internet Freedom" rule) and overrule them by passing a joint resolution of disapproval. Republicans in Congress used the process last year when they repealed important broadband privacy protections. And in the Senate, even the minority party can force a resolution of disapproval to a vote – making every senator go on the record for or against net neutrality.
Trump's FCC chair has shown that he is in the pocket of Big Telecom companies. But unlike the FCC, our senators are elected and they must answer to us.

Call Sen. Rob Portman: Support the resolution of disapproval to save net neutrality. Click the link below to make your call:
https://act.credoaction.com/call/call-NN-CRA/?t=7&akid=26976%2E1004336%2EWhFHwR
Click below for a sample script and the number to call:
References:
Brian Fung, "The Senate's push to overrule the FCC on net neutrality now has 50 votes, Democrats say," The Washington Post, Jan. 15, 2018.
Kate Conger and Dell Cameron, "Wait, Can Congress Stop the FCC From Trampling Net Neutrality?" Gizmodo, Dec. 14, 2017.
---
From: Nita, Shaunna, Kat, Karin, Adam, Holly, Kathy, Susan, Anathea, Audine, Shannon, Emma, Pilar, Natalie, Melody, Pam, Lindsay, and Ryan, the UltraViolet team
Subject: MSU's president is out!
Yesterday was a huge milestone for sexual assault survivors–Larry Nassar, former Michigan State University (MSU) employee and team doctor for USA Gymnastics, was sentenced to up to 175 years in prison after a week of powerful testimony from over 150 women he abused. Hours later, in advance of a planned Friday demonstration and under pressure from MSU students, Michigan leaders, survivors, and UltraViolet members like you, MSU President Lou Anna Simon resigned for her complicity in Nassar's abuse.1
Thank you for standing with survivors and pushing MSU to hold an enabler of abuse accountable. After only a week, hundreds of calls and tweets, and tens of thousands of petition signatures, Simon is out. This is what we can accomplish when we take action together.
Source: 1. MSU president quits over Larry Nassar case and says 'tragedies are politicized', Guardian, January 24, 2018
Want to support our work? UltraViolet is funded by members like you, and our tiny staff ensures small contributions go a long way. Chip in here.
---
From: MARGARET PETERS
Subject: Stop President Trump and his friends from handing over drilling rights in Chaco Canyon, threatening 1,000 year old Pueblan artifacts and structures of immense cultural, historal and tribal value
President Trump and his fossil fuel friends are about to hand over drilling rights near Chaco Canyon in New Mexico, threatening 1,000-year-old Pueblan artifacts and structures of immense cultural, historical and tribal value. That's why I just signed an important petition to stop Trump and Big Oil from drilling near these sacred Native lands. I hope you will sign the petition and encourage others to also sign it.
https://act.credoaction.com/sign/no_chaco_drilling?sp_ref=381911015.4.185534.e.596531.2&referring_akid=27001.1920731.3PP6eS&source=mailto_sp
---
From: Josh Nelson, Deputy Political Director, CREDO Action from Working Assets
Subject: Sign if you agree: No drilling on sacred Native lands
No drilling at Chaco Culture National Historical Park
The petition to the Bureau of Land Management reads:
"Protect one of our nation's most significant cultural and historical Native sites. Stop the proposed fossil fuel lease sales near the Chaco Culture National Historical Park."
Add your name: Sign the Petition
If the Trump regime's war on public lands wasn't already dangerous enough, Big Oil is now set to destroy one of the nation's most significant cultural and historical sites if we don't stop them.
On the heels of Donald Trump's reckless decision to slash the size of Bears Ears and Grand Staircase-Escalante national monuments, Trump and his fossil fuel regime are ready to hand over drilling rights near the Chaco Culture National Historical Park in New Mexico, threatening 1,000-year-old Pueblan artifacts and structures of immense cultural, historical and tribal value.
Public lands enemy Sec. Ryan Zinke, who oversees the Bureau of Land Management (BLM), plans to put these lands up for lease to the fossil fuel industry this March. We must act now to prevent these sales from moving forward.
Tell the Bureau of Land Management: No drilling at the Chaco Culture National Historical Park. Click here to sign the petition.

The areas in and around the Chaco Culture National Historical Park contain the threatened ruins of Chaco Canyon – what some have referred to "as close as the U.S. gets to Egypt's pyramids and Peru's Machu Picchu" – as well as "the remnants of great houses, kivas, ancient roads and sacred places built a millennium ago by an indigenous people who became proficient in architecture, agriculture, astronomy and the arts."1,2 Today, the Navajo people, whose land surrounds the park, regard the Chaco region as culturally important, and a number of New Mexican Pueblos consider these sites sacred.3
In response to massive backlash by the public and Native people to potential drilling and fracking in the region, the BLM promised tribal leaders and lawmakers that it would delay lease sales inside a 10-mile radius of the park until 2020, when the agency could complete a full assessment to determine the impact drilling would have on ancient sacred sites.
But last summer, the BLM reversed course, and in accordance with Sec. Zinke's plan to rapidly open up public lands for fossil fuel drilling, put up 4,800 acres of land near Chaco for sale, some of which lay within the buffer zone, potentially endangering sacred Native sites.4
Right now, progressive activists and tribal leaders are organizing protests on the ground to resist this wholesale giveaway of sacred Native lands to the fossil fuel industry.5 We must have their backs and demand that the Trump regime back down from these lease sales immediately.
Tell the Bureau of Land Management: No drilling at the Chaco Culture National Historical Park. Click the link below to sign the petition:
https://act.credoaction.com/sign/no_chaco_drilling?t=7&akid=27001%2E1004336%2E3Ug0GV
Add your name: Sign the Petition
---
From: Andrew Tierman
Subject: FW: Disgusting. Just Ban It.
I want to make sure you see this.
We recently teamed up with award-winning filmmaker, Jon Bowermaster, to create a video that exposes Big Oil, large food corporations, and the legislators who have allowed food that is sold across the country be grown with toxic oil wastewater.
Together with the help of our partners, we've already caught the attention of the Wonderful company after sending over 130,000 petition signatures last year. We need to keep building on this pressure.
Watch the video today and take our pledge to get Wonderful to BAN this dangerous practice!

We won't let them get away with this.
Onward together,
————————-
Dear Andrew,
Our country's multi-billion dollar food industry is getting away with growing our food with toxic oil wastewater from polluting corporations like Chevron.
This practice has been happening for too long with little to no regulation. These companies are exploiting consumers like you and the farmworkers who grow the crops — all to profit off putting our health at risk. It's time that we expose Big Oil, large agribusinesses and the politicians who have enabled this practice!

Check out our video on oil wastewater irrigation made by renowned filmmaker Jon Bowermaster, then sign our petition to ban the practice!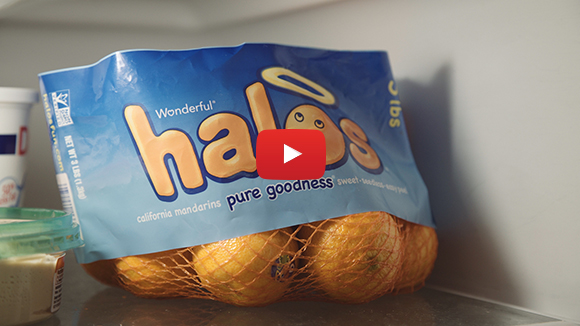 In a scheme to get rid of and save money on oil wastewater disposal, oil companies are selling billions of gallons of it to irrigation districts in California for cheap.
We're putting pressure on Wonderful, a large food company known for popular brands sold across the country, such as Halos, POM Wonderful juice and Wonderful Pistachios, by asking YOU to pledge to stop buying their products until oil wastewater irrigation is banned!
Watch our video and tell Wonderful: I pledge to stop buying your products until you Stop Tainting Our Produce.
Wonderful owners, the Resnicks, are huge players in California water politics who donate to several electoral campaigns every year — as a stakeholder, they can and should use their influence to call for a ban on this practice.
We've already caught their attention after sending them over 130,000 pledge signatures last year.
In response, their website claims that the oil wastewater is "carefully treated, tested and approved for agricultural use." Meanwhile, our research shows that there is no regular testing or reporting required, which means the water used in this highly unregulated practice could contain toxic chemicals linked with cancer and reproductive harm.
Together we can build on the pressure that we've already started and get Wonderful to BAN this dangerous practice!
In solidarity,
Luz Hernandez; Online Organizer, Food & Water Watch
---
From: Iram, Robert, Ilya, Jo, and the rest of the team, MoveOn.org Political Action
Subject: Trump's attempt to keep Black and brown people out
Tomorrow marks the one-year anniversary of Donald Trump's first Muslim Ban—an early manifestation of Trump's infuriating campaign promise of a "total and complete shutdown of Muslims from entering the country" and his ongoing white supremacist agenda.1
Right now, Trump's Muslim Ban 3.0 is in effect and is indefinitely blocking people from five majority-Muslim countries: Iran, Libya, Somalia, Syria, and Yemen—while placing restrictions on a sixth majority-Muslim country, Chad.2 And just yesterday, Trump also released a proposal to cut immigration by 50%, including ending major portions of the family reunification program that allows people to sponsor their siblings, parents, and other close family members.3 Meanwhile, the livelihoods of over 800,000 DACA recipients and millions of others with post-natural disaster temporary protected status are still uncertain, because Trump is using them as a bargaining chip to get his border wall and pass more inhumane immigration policies.4
Make no mistake: These policies exemplify Trump's and the GOP's willingness to cater to white supremacists, inhumanely tear apart families, and keep Black and brown immigrants out of the United States.
Despite this, MoveOn members have stood strong in resistance against Trump's policies—and we can be proud of our work, drawing a clear moral line in the sand. Since Trump's election,
MoveOn members took his campaign promise to implement a Muslim registry seriously and worked with our allies at DRUM (Desis Rising Up and Moving), the ACLU, and many partners to proactively shut down a Bush-era Muslim registry program so Trump wouldn't be allowed to use it;
when the first Muslim Ban was released, thousands of MoveOn members showed up to airports across the country to stand with Muslim communities, and tens of thousands more hung signs in their neighborhoods reading, "No Muslim Ban. No Border Wall. Our Cities Stand Tall";
our Video Lab team made 22 videos around the Muslim Ban and combating Islamophobia that garnered over 15 million views—including a video that told the powerful story of Areej Ali, a green card holder, who was detained during the first Muslim Ban;
we released a timely guidebook to progressive members of Congress, allies, and organizations on how to speak about the Muslim Ban while avoiding talking points that would harm Muslim communities;5
we took the opportunity to contribute over $250,000 to many organizations on the front lines of Trump's attacks—including those working on immigrant rights;
tens of thousands of MoveOn members have also added their signatures to petitions calling on Facebook and Twitter to take hate speech and the incitement of violence seriously on their platforms;
and so much more!
While MoveOn members have focused during the past year on defending communities on the frontlines of Trump's attacks, in 2018, we're going on the offense, taking up the long-term fight against anti-Muslim racism along with allies in Muslim communities.
The fight against the Muslim Ban is far from over. And we know, from all the systemic ways Muslim communities have been targeted through surveillance, Guantánamo, wars, and law enforcement, that we need some serious change to shift the narrative and build pro-immigrant political power before it's too late.
We're also at an unprecedented moment where there is an opportunity to drastically shift the conversation around Muslim communities and get Democratic candidates, along with progressive organizations, the right tools for the 2018 elections. We already started the process by looking into existing research on Islamophobia and planning out our video persuasion tests to find the right messaging. If this is the year Democrats win big, we need to make sure they are clearly standing with Muslim communities against the anti-Muslim hate we will inevitably witness during an election year.
As we continue to stand against anti-Muslim racism, click here to watch and share Areej's powerful story of being detained during the first Muslim Ban to remind people of the ways Trump's policies are tearing families apart—and that these policies have real consequences on the lives of many.

Sources:

Want to support our work? The MoveOn community will work every moment, day by day and year by year, to resist Trump's agenda, contain the damage, defeat hate with love, and begin the process of swinging the nation's pendulum back toward sanity, decency, and the kind of future that we must never give up on. And to do it we need your ongoing support, now more than ever. Will you stand with us?
PAID FOR BY MOVEON.ORG POLITICAL ACTION, http://pol.moveon.org/. Not authorized by any candidate or candidate's committee.
From: Dina El-Rifai; Communities Against Islamophobia, AFSC
Subject: One year after the Muslim ban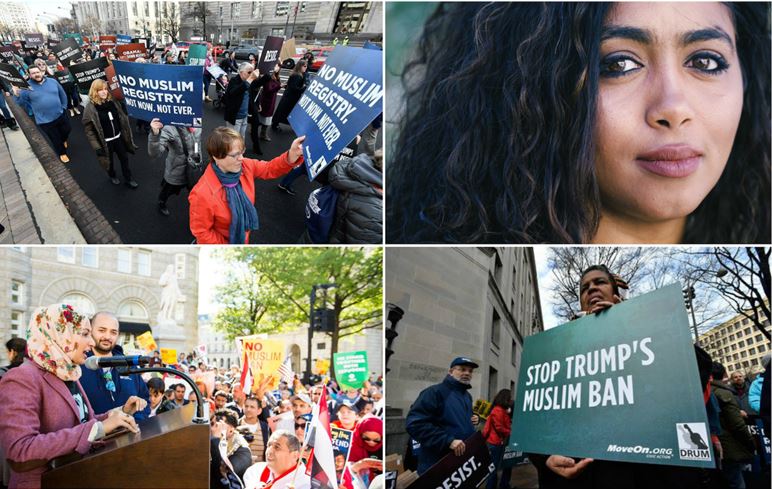 Photo: Sarah Jane Rhee
One year and three versions later, President Trump's Muslim ban is still discriminatory, Islamophobic, and one of the most shameful examples of this Administration's racist attacks on the liberties of Muslims and immigrants in the United States.
On Jan. 27, seven days after Trump was sworn into office, he signed the Muslim ban as part of a larger slew of racist, anti-immigrant, and anti-Black executive actions. Communities across the U.S. responded immediately as people were blocked from entering the country—staging mass airport protests, organizing teach-ins and know-your-rights workshops, plastering posters across their cities, and signing petitions to stand against this immoral policy.
AFSC's Communities Against Islamophobia (CAI) project was launched to help change the dominant narrative about Islam that feeds racist policies like the Muslim ban. Since its inception, CAI has trained more than 700 people in five U.S. cities to become informed and active allies. Participants have taken part in mobilizations and educational events in support of the Muslim community.
Despite the Trump administration's changes to the ban over the past year, its original intent remains the same: barring Muslims from entering the country. It's still discriminatory and immoral.
Last week, the Supreme Court announced that it would hear Hawaii's challenge to the current version of the ban, and a ruling is expected by June. In the meantime, the ban is in full effect, effectively barring 150 million immigrants and visitors—the vast majority of them Muslim—from Iran, Yemen, Syria, Libya, Somalia, and other countries from entering the U.S.
For numerous individuals from these countries and their families here in the U.S., the impacts of the Supreme Court decision will be severe and far reaching. As a member of the Muslim community, I have seen firsthand the devastation of a mother repeatedly being denied a visa to travel to the U.S. to be with her dying daughter.
All of us deserve to feel safe from hatred and to live and pray in peace. The Muslim ban has no place in our society—not now, not ever.
For more resources about how you can oppose Islamophobia—and engage others in our efforts—explore our Communities Against Islamophobia resources.
---
End of MPEN e-Newsletter
---