http://cjni.com/cjni.com/wp-content/themes/Avada/assets/min/js/general/avada-to-top.js From: Munsup @MPEN Seoh
Shiroi Subject: FW: Breaking: Trump ordered tanks in D.C.; NYT Today's Headlines; Paul Ryan ridiculed for bragging…; and more
---
FW: Breaking: Trump ordered tanks in D.C.
FW: Petition updates
FW: Several Eagles players already refusing to celebrate Super Bowl win with Trump
FW: Today's Headlines:
(1) Thousands of ISIS Fighters Flee in Syria, Many to Fight Another Day
(2) As F.B.I. Took a Year to Pursue the Nassar Case, Dozens Say They Were Molested
FW: Everything Terrible The Trump Administration Has Done So Far
FW: House Republicans Rush To Get In On The Big Obstruction Of Justice Party
FW: House memo states disputed dossier was key to FBI's FISA warrant to surveil members of Team Trump
FW: Paul Ryan ridiculed on social media for bragging about secretary's tiny raise under GOP tax cut
---
From: Stephen, Cassandra, Amy, and the Win Without War team
Subject: Breaking: Trump ordered tanks in D.C.
Urgent: Trump just ordered a massive military parade in D.C.
Tell D.C. Mayor Muriel Bowser to shut it down immediately >>
Last night, the Washington Post broke the story that Donald Trump has ordered a giant military parade with tanks, guns, and troops taking over the streets of our nation's capital. [1] This is the kind of parade that dictators around the world use to intimidate their enemies and, more importantly, their own citizens.
This is what authoritarian dictatorships look like.

But Trump can't change the fact that we still live in a democracy — which means Washington, D.C.'s local government gets to have a say before Donald Trump's tanks roll down its streets. If we put immediate pressure on Washington, D.C. Mayor Muriel Bowser, we can force her to step in and shut down Trump's blatant warmongering. So it's up to us to spark a massive response from coast to coast: NO WAY, NOT NOW, NOT EVER.
Please, act now to demand Mayor Bowser stop Trump's brazen war parade.
[1] Trump's 'marching orders' to the Pentagon: Plan a grand military parade.
(Munsup's Note: He has seen the imagination many times when he was in Korea under late President Park.)
---
From: Maria, Pulin, Alex, Iram, and the rest of the team, MoveOn.org Civic Action
Subject: Petition updates
Our aspirations and hopes for the nation are reflected in what MoveOn members and partners do—locally and nationally.
In the past few months, we've been busy fighting against the Trump agenda, working to rebuild progressive power, and laying the groundwork for victories in 2018. We supported the electoral wins in Virginia and Alabama, took on a fierce fight against the GOP corporate tax giveaway, continued work in solidarity with Dreamers and immigrants under attack, and are organizing to defend the Mueller investigation—including a rapid-response network of more than 700 events and 220,000 participants ready to spring into action if Trump fires Mueller.
Many times, the catalyst for change is a MoveOn member, like you, who starts a petition or signs on to support an issue that's important to them.
With all that we are doing, it's important to reflect on the progress this movement is making, so let's take a look at what MoveOn members and partner organizations have been up to on our petition platform in the past couple of months.
After grassroots support from her community, including more than 10,000 signatures on a MoveOn petition, Connecticut resident Nelly Cumbicos will be allowed to stay with her family instead of facing deportation. While it's great news for her family, hundreds of thousands of MoveOn members are still fighting for a Dream Act, equality for same-sex couples, and ending cruel deportations, which destroy many other families. As ICE becomes more emboldened and given extra powers by the Trump administration, it will take all of us to stand up to protect families from being torn apart.
If you know people or communities who are being attacked by the Trump administration's policies, launch a petition now.
Nearly 100,000 MoveOn members have signed Demand Progress' petition to overturn the FCC's repeal of Net Neutrality. And thanks to a groundswell of support, the campaign is on the verge of winning a bipartisan victory in the Senate—50 senators have already signed on, and there's a real chance your additional support will help win this battle by persuading Republicans who are currently undecided.
You can start a petition asking your senators to commit to protecting Net Neutrality or other issues important to you.
Trump and the Republicans stepped up their attacks on the Mueller investigation. They're taking extreme measures against the FBI and Department of Justice and leveraging the so-called "Nunes Memo," which is simply a piece of propaganda designed to undermine the rule of law. More than 140,000 MoveOn members are demanding Speaker Ryan remove Rep. Nunes from this investigation and the House Intelligence Committee.
Start your own petition against government corruption now.
A petition asking the Department of Justice and Congress to investigate Trump's history of sexual assault and harassment continues to gain massive support. We teamed up with UltraViolet and CREDO to deliver more than 500,000 signatures to Senate Minority Leader Schumer and House Minority Leader Pelosi this week. We'll keep the pressure up until Congress takes these allegations seriously.
It's empowering to start your own petition to hold people in positions of power accountable for their destructive actions. 
Spotlight: 11 campaign updates you don't want to miss
Our core values and institutions are under unprecedented attacks, and while it may not seem that petitions will make all the difference, we're here to inspire each other each day. Resistance doesn't always lead to immediate victory, but it's an important step to take to get our nation headed in the right direction.
Thank you for being an inspiration to us as we continue to move ahead into a crucial 2018 year of opportunity, organizing, and victories!
Will you start your own petition for progressive change now?
Want to support our work? The MoveOn community will work every moment, day by day and year by year, to resist Trump's agenda, contain the damage, defeat hate with love, and begin the process of swinging the nation's pendulum back toward sanity, decency, and the kind of future that we must never give up on. And to do it we need your ongoing support, now more than ever. Will you stand with us?   Donate monthly  or  make a one-time gift
Contributions to MoveOn.org Civic Action are not tax deductible as charitable contributions for federal income tax purposes.
---
From: Evan, Rashad, Arisha, Brandi, Jade, Johnny, Future, Corina, Chad, Mary, Saréya, Eesha, and the rest of the Color Of Change team
Subject: Several Eagles players already refusing to celebrate Super Bowl win with Trump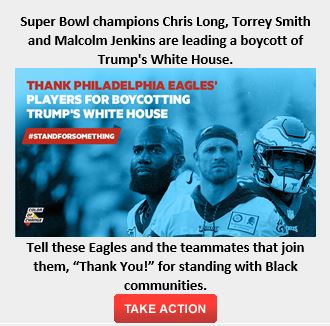 Join me in thanking Chris Long, Torrey Smith and Malcolm Jenkins of the Super Bowl champion Philadelphia Eagles for taking a stand against Donald Trump's bigotry and white supremacy.
One year into Trump's presidency and we've already seen his racist and nativist rhetoric come to life in devastating ways: ripping apart families through deportation, increased violence by white supremacists, and the attempted destruction of the middle class through his horrendous tax policy. It's usually customary for the winning Super Bowl team to visit the White House, but this isn't a normal president. Chris Long, Torrey Smith and Malcolm Jenkins of the Super Bowl champion Philadelphia Eagles have publicly rebuked Trump and his policies by boycotting the traditional White House visit.
By refusing to visit the White House, these players continue to take a bold stance against this illegitimate President and the racist, xenophobic, and sexist policies he stands for. They are risking the alienation of their teammates, coaches, and fans in order to stand up for their principles.
Let's show these Eagles' players just how much we support their bold stand. Thank Chris Long, Torrey Smith and Malcolm Jenkins for standing against Trump.
The quiet national anthem protests begun by Colin Kaepernick two years ago turned into a firestorm this year with more and more athletes taking a stand, Kaepernick continuing to be blackballed, as well Trump's and some NFL owners' racist comments about these athletes. While this will mark the second year in a row that Chris Long has boycotted the White House after a Super Bowl win, it's not the first time athletes have turned their back on the former Apprentice host.
Last spring, Steph Curry announced that he and the championship Warriors wouldn't visit Trump's White House and numerous teams from the NBA, NHL, and MLB have taken to boycotting Trump hotels.1 2  They're following in a long tradition of athletes taking a stand for Black lives and rights, from Muhammad Ali to Tommie Smith and John Carlos giving the Black Power salute at the 1968 Olympics, to NBA players invoking the legacy of Eric Garner by wearing "I Can't Breathe" shirts on the court. These are athletes who demand that America live up to its values of liberty and justice for all.
Join me in thanking Chris Long, Torrey Smith and Malcolm Jenkins for standing up against Trump.
We're in a pivotal moment when everyday Americans and public figures with shared values of justice and equity are using their powerful voices to say enough is enough–no more racism, no more anti-Muslim bigotry, no more misogyny, and no more Trump! We need to continue to support the athletes that are risking their livelihoods to stand up for justice.
Thank Chris Long, Torrey Smith and Malcom Jenkins for standing with Black communities.
References:
"Donald Trump rescinds White House invitation to Stephen Curry, Warriors." 23 September, 2017. https://act.colorofchange.org/go/17556?t=10&akid=9041%2E239715%2EwAH4-K
"Sports teams are deserting Trump's hotels, and it's hitting his wallet hard." 12 October, 2017. https://act.colorofchange.org/go/17557?t=12&akid=9041%2E239715%2EwAH4-K
Color Of Change is building a movement to elevate the voices of Black folks and our allies, and win real social and political change.
Help keep our movement strong.
---
From: New York Times
Subject: NYT Today's Headlines: Thousands of ISIS Fighters Flee in Syria, Many to Fight Another Day
Thousands of ISIS Fighters Flee in Syria, Many to Fight Another Day
By ERIC SCHMITT
As some militants go into hiding and others slip into Turkey, the flow risks tarnishing American declarations that the Islamic State has been largely defeated.
As F.B.I. Took a Year to Pursue the Nassar Case, Dozens Say They Were Molested
By DAN BARRY, SERGE F. KOVALESKI and JULIET MACUR
The agency was seemingly slowed by jurisdictional issues, and athletes went unwarned that a potential child molester was in their midst.
---
From: Munsup @SISCOM Seoh
Subject: FW: Everything Terrible The Trump Administration Has Done So Far
https://paperspaperspapers.wordpress.com/2017/01/25/the-everything-terrible-the-trump-administration-has-done-so-far-omnibus/
The "Everything Terrible The Trump Administration Has Done So Far" Omnibus
Here's a list of all the awful things done the Trump Administration has done so far. It can be to used as a quick reference source in arguments against anyone who tries…
---
From: MARGARET PETERS [mailto:mpeters0312@sbcglobal.net]
Subject: FW: House Republicans Rush To Get In On The Big Obstruction Of Justice Party
On Saturday, February 3, 2018 7:38 AM, The Pen <theteam@activist149.peaceteam.net> wrote:
We know we don't have a lot of Republicans on our distribution list. But for the ever diminishing minority, if they're following any of this out there, hurry, hurry, you too can get in on the big obstruction of justice party.
If it turns out that Nunes, so close to Trump he was on the transition team, conspired with the White House, exactly like he has before, in any way to cook up a slimy and deceptive attack on the FBI, solely intended, and already admitted as such, to pave the way for aborting the Mueller investigation, Nunes will be doing the perp walk himself before long.
For those Republicans who claim they are just going after some supposed bad apples at the top, while still supporting the rank and file, guess what? The rank and file, the FBI Agents Association, is standing strongly behind FBI director Wray.
Trump was caught on a hot mike promising release of the memo before anyone would admit that he had even read it. It literally represents rendering a verdict before even a due consideration of the facts, with Nunes himself never having read the material underlying the one-sided memo he is pushing, and with Republicans on the so-called Intelligence Committee vetoing the idea of even being briefed by the FBI before their rush to publish.
There are rumblings from the inside the White House that the whole thing is just big fat dud, and that all this is just about the handling of the investigation into Carter Page. What's the scandal the Republicans are ranting about, that a known Russian asset, albeit an inept one who even the Russians thought was an idiot, was kept under surveillance?
Nixon was desperate to stop the Watergate investigation, and couldn't. But at some point he stopped committing additional crimes of obstruction of justice to do so. Trump seems determined to make the special counsel's case for him, missing no opportunity to pile on additional evidence of his intent.
As we predicted, Trump will never voluntarily submit to any kind of Mueller interview, let alone testify. His attorney released a statement asserting the Mueller had not met the so-called "high bar" required to question an Oval Office occupant.
Unfortunately, there is no bar too low for Trump himself to slink under.
But you can raise the bar again, with any of our Lock Trump up message gifts.
Or if you'd just like to make a valiant contribution to support these insights of truth, you can use this page, and you can even make it recurrent by checking the option box for that now.
Donations: https://www.utalk.us/?p=donate
And here is the mailing address if you would prefer to send a check.
The People's Email Network, PO Box 35022, L.A., CA 90035
Contributions to The People's Email Network or ActBlue are not tax-deductible for federal income tax purposes.
You may forward this message to any friends who would find it important.
If you would like to be added to our distribution list, go to http://www.peaceteam.net/in.htm
---
From: CLG_News
Subject: House memo states disputed dossier was key to FBI's FISA warrant to surveil members of Team Trump
News Updates from CLG on 03 February 2018, http://www.legitgov.org/
All links are here: http://www.legitgov.org/#breaking_news
House memo states disputed dossier was key to FBI's FISA warrant to surveil members of Team Trump | 02 Feb 2018 | A much-hyped memo that shows alleged government surveillance abuse during the 2016 campaign has been released to the public and cites testimony from a high-ranking government official who says the FBI and DOJ would not have sought surveillance warrants to spy on a member of the Trump team without the infamous, Democratic-f-nded anti-Trump dossier. Republicans on the House Intelligence Committee released the memo Friday. The White House responded by saying the memo "raises serious concerns about the integrity of decisions made at the highest levels of the Department of Justice and the FBI to use the government's most intrusive surveillance tools against American citizens."
Republican memo: What you need to know about alleged FBI and DOJ abuses | 02 Feb 2018 | The four-page memo compiled by the GOP Chair of the House Intelligence Committee accuses the FBI and DOJ under the Obama administration of securing a warrant to spy on the Trump campaign based on the notorious 'Steele dossier.' Declassified by President Donald Trump and published by the committee Friday over strong objections by Democrats, the DOJ and the FBI, the memo lays out the origins of the warrant to spy on Trump adviser, Carter Page, in the dossier f-nded by Hillary Clinton's campaign. The so-called Steele dossier "formed an essential part" of the FISA probable cause order obtained by the FBI from the Foreign Intelligence Surveillance Court (FISC) on October 21, 2016. The warrant was extended three times, also on the basis of the Steele dossier. [See also: 370598711 House Intelligence Committee Report on FISA Abuses.]
GOP-Nunes memo released alleging FBI cover-up [and FISA surveillance improprieties] | 02 Feb 2018 | The House Intelligence Committee on Friday made public a Republican memo that raises questions about the FBI surveillance of one of Donald Trump's campaign aides, acting after the president declassified the entire document, which he says shows the law enforcement agency was biased against him. The disclosure came despite the opposition of the FBI, which feared it would reveal investigative methods bias and illegalities, and the Justice [sic] Department. The three-and-a-half-page memo was prepared by the intelligence committee's chairman, Rep. Devin Nunes, R-Calif., and is a critique of the FBI's application for surveillance authority that was presented to the Federal Intelligence Surveillance Act (FISA) Court.
Read the full transcript of the GOP memo | 02 Feb 2018 | This is the 3.5-page memo prepared by House Intelligence Committee Chairman Devin Nunes. It is derived from the FBI's application for surveillance authority before the Federal Intelligence Surveillance Act (FISA) Court. The memo was released Friday after President Donald Trump decided to declassify it in full, White House spokesman Raj Shah. Purpose: This memorandum provides Members an update on significant facts relating to the Committee's ongoing investigation into the Department of Justice (DOJ) and Federal Bureau of Investigation (FBI) and their use of the Foreign Intelligence Surveillance Act (FISA) during the 2016 presidential election cycle. Our findings, which are detailed below, 1) raise concerns with the legitimacy and legality of certain DOJ and FBI interactions with the Foreign Intelligence Surveillance Court (FISC), and 2) represent a troubling breakdown of legal processes established to protect the American people from abused related to the FISA process.
Donald Trump says FBI memo 'totally vindicates me' | 03 Feb 2018 | Donald Trump says a controversial memo alleging FBI surveillance abuse "totally vindicates" him but added the "Russian witch hunt goes on and on". He approved Friday's release of the congressional memo which claimed the FBI and Department of Justice were biased against him while investigating alleged collusion between his 2016 election campaign and Russia. The US President said the inquiry had found nothing and "collusion was dead". In the tweet posted on Saturday, he wrote: "This memo totally vindicates 'Trump' in probe. "But the Russian Witch Hunt goes on and on. "Their was no Collusion and there was no Obstruction (the word now used because, after one year of looking endlessly and finding NOTHING, collusion is dead). This is an American disgrace!"
'A lot of people should be ashamed of themselves and much worse than that': Furious Trump says FBI and DOJ heads should roll as explosive memo is published | 02 Feb 2018 | President Donald Trump signaled Friday that he expects heads to roll at the Department of Justice after reviewing a classified memo alleging FBI misconduct. Trump said 'it's a disgrace what's happening in our country' as he formally announced his decision to declassify the document that quickly made its way into the hands of news outlets. 'A lot of people should be ashamed of themselves and much worse than that,' he added during a meeting with North Korean defectors in the Oval Office. Asked directly if he wanted Deputy Attorney General Rod Rosenstein gone, Trump would only say, 'You figure that one out.' CNN reported that Trump read the memo along with his advisors. According to a summary of the memo, it concludes former FBI deputy director McCabe confirmed that the bureau would not have sought a surveillance warrant without information in the dossier of information compiled by ex British intelligence officer Christopher Steele, the Washington Examiner reported.
New FBI messages reveal agents sought way to evade federal record requirements | 01 Feb 2018 | There's an important but little-noticed subtext in the revelations about alleged FBI misconduct in the investigations into Hillary Clinton's email practices and Donald Trump's Russia associations. It's the light they shine on what has come to be routine obstruction of public records laws by federal officials. The records that federal agencies generate while in our employ aren't owned by faceless bureaucrats or political officials who can choose to withhold or disclose at their discretion and convenience. The records are owned by us: the public. That includes text messages.
Justice Department says Mueller probe lawful | 03 Feb 2018 | The U.S. Justice Department has backed Special Counsel Robert Mueller over a lawsuit filed against him by Paul Manafort, President Donald Trump's former campaign manager, and argued that the case should be dismissed. Manafort sued Mueller on Jan. 3, saying his office's investigation into possible collusion between the Trump campaign and Russia in the 2016 presidential election exceeded its legal authority. The civil lawsuit, filed in U.S. District Court for the District of Columbia, accused Deputy Attorney General Rod Rosenstein, who appointed Mueller, of exceeding his legal authority to "grant Mr. Mueller carte blanche to investigate and pursue criminal charges in connection with anything he stumbles across."
Trump team setting up legal defense fund for Russia probe – report | 02 Feb 2018 | President Trump's campaign has reportedly hired a law firm to set up a legal defense f-nd for costs incurred by staffers ensnared by the special counsel investigation or other legal f-es. A document from the Wiley Rein LLP law firm posted on the Office of Government Ethics (OGE) website describes the "Patriot Legal Expense F-nd," which would provide financial support to any individual who "was an employee, consultant, f-ndraiser or volunteer" of Trump's 2016 campaign.
Russian Su-25 jet downed in Syria, pilot killed – Defense Ministry | 03 Feb 2018 | A Russian Su-25 jet has crashed in Idlib province in north-western Syria, the Russian Defence Ministry confirmed, adding that it was probably shot down by MANPAD. The pilot ejected but was killed by militants on the ground. Preliminary data showed the Su-25 plane was downed by a man-portable air-defense system (MANPAD), the ministry said in a statement on Saturday. The attack took place when the jet was flying over the Idlib de-escalation zone on Saturday. The pilot parachuted down into the area controlled by Al-Nusra terrorist group, the statement said.
US uses 'routine' aerial incidents to stir up Russophobia, avoids dialog – Moscow | 01 Feb 2018 | The US deliberately "fusses" over ordinary plane encounters to accuse Moscow of aggression, the Russian Foreign Ministry said, responding to the latest incident over the Black Sea. Moscow notes Washington's "repeated attempts to make a fuss over what has in fact become routine episodes of escorting each other's planes," the ministry said in a statement. It regards this approach as nothing but a desire to "stir up Russophobic sentiments in the media and to accuse Russia of aggressive actions." …Moscow and Washington signed an agreement – which particularly addresses and regulates such incidents – more than 30 years ago, the statement reminded. It went on to point out that Russia has repeatedly suggested further refining this document, but "the US side has always avoided professional dialog" on the matter.
Another US antiballistic missile test fails, officials say | 31 Jan 2018 | A test of an American missile defense system failed early Wednesday morning in Hawaii, two U.S. defense officials tell Fox News. It's the same type of antiballistic infrastructure the Pentagon depends on to shoot down intermediate-range North Korean ballistic missiles. It was the second failure of an SM-3 antiballistic missile interceptor since June. "We're now one for three," a U.S. official with knowledge of the test told Fox News…A spokesman from the U.S. Missile Defense Agency only would acknowledge a test took place, but refused to reveal the results.
N. Korea would see blanket ban of oil supplies as declaration of war – Russian envoy | 31 Jan 2018 | Imposing a total ban on oil exports to North Korea would mean a full blockade and will be considered as a declaration of war by Pyongyang, Russia's ambassador to North Korea has cautioned. The UN Security Council (UNSC) unanimously approved a new round of sanctions on the North in December last year, slashing the country's oil and petroleum imports. Russia's envoy to North Korea Alexander Matsegora warned against cutting oil supplies to the country any further.
Up to 7,000 ISIS fighters in Afghanistan – Russian diplomat | 01 Feb 2018 | Some 7,000 fighters and thousands of reservists of Islamic State (IS, formerly ISIS [but still I-CIA-SIS]) currently reside in Afghanistan, Russian special presidential envoy Zamir Kabulov said on Thursday. The Taliban fighters' number in Afghanistan currently stands at around 60,000 or 70,000, according to Kabulov, who is also director of the Russian Foreign Ministry's Second Asia Department.
Air Force general behind 5G memo leaves White House | 03 Feb 2018 | The author of a memo arguing for a government takeover of development of the nation's [deadly] 5G m-bile network has been removed from the National Security Council staff. The memo's unauthorized release this week caused uproar in the telecom community and created embarrassment for the White House. A senior administration official confirmed that Air Force Brig. Gen. Robert Spalding is no longer serving as NSC senior director for strategic planning. Spalding was not fired, according to the official, who said his detail had ended and was not renewed. His last day as a White House staffer was Jan. 31.
Lethal radiation detected at Fukushima nuclear plant –42 sieverts per hour of radiation also detected outside foundations of reactor | 01 Feb 2018 | The operator of the crippled Fukushima Daiichi nuclear power plant has released the results of its latest probe of the site. A remote-controlled inspection of the Unit 2 reactor containment vessel last month detected a maximum of 8 sieverts per hour of radiation. Experts say exposure to such radiation for about an hour would be fatal. Officials from Tokyo Electric Power Company, or TEPCO, released the results on Thursday. The finding shows that nearly 7 years after the meltdowns, radiation levels remain so high that they present a major challenge to decommissioning work.
Regulator urges Tepco to release radioactive water from damaged Fukushima No. 1 nuclear plant into the sea | 11 Jan 2018 | A decision should be made sometime this year over whether to release into the sea water containing radioactive tritium from the crisis-hit Fukushima No. 1 nuclear plant, the chief of Japan's nuclear regulator said Thursday, emphasizing it would pose no danger to human health. [!?!] "We will face a new challenge if a decision (about the release) is not made this year," Nuclear Regulation Authority Chairman Toyoshi Fuketa told Naraha Mayor Yukiei Matsumoto, referring to the more than 1 million tons of [radioactive] coolant water and groundwater that has accumulated at the crippled facility. Naraha is located close to the Fukushima No.1 plant.
Judge orders release of Las Vegas shooting autopsy reports; coroner refuses to comply | 30 Jan 2018 | A District Court judge on Tuesday ordered the Clark County coroner's office to release the autopsy reports of Stephen Paddock and the 58 people he [allegedly] killed in the Oct. 1 Las Vegas massacre. But as of late Tuesday, Clark County Coroner John Fudenberg had not complied with the order. He indicated he wouldn't release Paddock's autopsy report until it was "finalized." "I don't believe this is consistent with what the court ordered," said Las Vegas attorney Maggie McLetchie, who represents the Las Vegas Review-Journal and The Associated Press in their November action demanding the release of the reports.
Rep. Trey Gowdy to leave Congress, becoming latest high-profile committee chairman to retire | 31 Jan 2018 | South Carolina Republican Rep. Trey Gowdy, the chairman of the House Oversight Committee, announced Wednesday that he is retiring from Congress at the end of his term, becoming the latest high-profile committee chairman to opt against re-election. Gowdy said in a statement. The former federal prosecutor was elected to Congress in 2010…The 53-year-old Gowdy, a member of the House Intelligence Committee, has been outspoken about the FBI's investigations into 2016 Democratic presidential candidate Hillary Clinton's email practices, as well as the Russia probe involving President Trump and his aides. Most recently, he has been a proponent of publicly releasing the House Intelligence Committee memo on alleged government surveillance abuses.
Trump expected to approve release of memo following redactions requested by intelligence officials | 01 Feb 2018 | President Trump is expected to approve the release of a controversial congressional memo alleging surveillance abuses by the FBI, after the White House agreed to some redactions at the bureau's request, but the document may not be made public before Friday, according to senior administration officials. The redactions were the result of a review of the memo's classified contents by White House and intelligence community officials. The memo, which has created a political firestorm, suggests that the early origins of special counsel Robert S. Mueller III's probe into [alleged] Russian interference in the 2016 election were tainted by political bias.
GOP case: FBI probe based on tainted evidence linked to Clinton | 01 Feb 2018 | Congressional Republicans are seeking to make the case that the FBI's investigation into President Trump's campaign and possible collusion with Russia was based on flawed or politically tainted evidence connected to partisans loyal to Hillary Clinton. The House Intelligence Committee memo spearheaded by Rep. Devin Nunes (R-Calif.) that is the talk of Washington will be at the center of the argument. The release of that four-page memo is expected as early as Friday. Another document — an eight-page criminal referral filed with the Justice Department by Senate Judiciary Committee Chairman Chuck Grassley (R-Iowa) and Sen. Lindsey Graham (R-S.C.) — is also part of the GOP case.
Dow closes down more than 660 points | 02 Feb 2018 | U.S. stocks slumped Friday, pulling down the Dow Jones industrial average by more than 660 points and placing the market on track for its worst week in two years. The Dow ended the day at 25,520.96, down 665.75 points or 2.54 percent.
'Deplorable' NYU prof slaps university, colleagues with lawsuit –The New York University professor made popular by his undercover 'Deplorable NYU prof' Twitter account is now suing his colleagues for defamation. | 31 Jan 2018 | The New York University professor [and CLG Founder] who launched an undercover Twitter account to attack identity politics on his campus is suing four colleagues and his school for defamation. Michael Rectenwald revealed in October that he was the professor behind the growing "Deplorable NYU Prof" account on Twitter, which claimed to expose the "viral identity politics of academia and its destruction of academic integrity." Rectenwald contends that "all hell broke loose" soon after, alleging in his lawsuit that he was unfairly forced to take a medical leave of absence, and that he was the subject of numerous "false" claims made in email threads among university staffers…Rectenwald told Campus Reform that the cumulative damage has nearly destroyed his academic future at NYU.
Disabled US Army veteran's service dog found shot in head, dumped near railroad tracks | 02 Feb 2018 | A disabled Army veteran's service dog was found this week shot in the head and dumped by railroad tracks in Boone County, Ky. The dog, Gunner, had belonged to Bryan Vallandingham, a 14-year U.S. Army veteran in Richwood, Ky., who relied on the service animal for safety, Cincinnati's Fox 19 reported. Gunner would alert Vallandingham's family members whenever the disabled veteran was having a seizure. The family said Bryan wasn't doing well after learning of Gunner's death, and has been having repeated seizures.
*****
CLG needs your support: http://www.legitgov.org/donate.html
Or, please mail a check or m*ney order to CLG:
     Citizens for Legitimate Government (CLG)
     P.O. Box 1142, Bristol, CT 06011-1142
Contributions to CLG are not tax deductible.
Feel free — and CLG encourages you — to forward this newsletter to your lists and friends!
Those who wish to be added to the list can go here: http://www.legitgov.org/#subscribe_clg and add your name.
CLG News Editor-in-Chief: Lori Price. Copyright © 2018, Citizens for Legitimate Government ® All rights reserved.
---
From: Judy Burnette
Subject: Paul Ryan ridiculed on social media for bragging about secretary's tiny raise under GOP tax cut
http://www.nydailynews.com/news/politics/paul-ryan-brags-woman-tiny-raise-gop-tax-plan-article-1.3797130
Paul Ryan ridiculed on social media for bragging about secretary's tiny raise under GOP tax cut
Paul Ryan brags about woman's tiny raise under GOP tax plan
BY Megan Cerullo, NEW YORK DAILY NEWS
Updated: Saturday, February 3, 2018, 7:41 PM
House Speaker Paul Ryan was ridiculed on social media Saturday after he tweeted, then deleted a post citing a woman's tiny raise as an accomplishment of the GOP tax cut.
Ryan was responding to an Associated Press story about the controversial tax overhaul's effect on Americans' paychecks.
He highlighted Julia Ketchum, a secretary earning an additional $1.50 a week under the new withholding guidelines from the IRS following the passage of the bill.
"A secretary at a public high school in Lancaster, PA, said she was pleasantly surprised her pay went up $1.50 a week …she said [that] will more than cover her Costco membership for the year," read Ryan's tweet.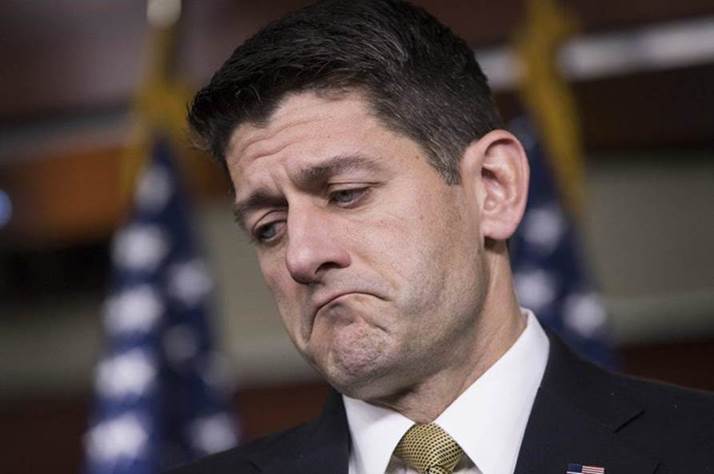 Ryan was responding to an Associated Press story about the controversial tax overhaul's effect on Americans' paychecks.
(J. Scott Applewhite/AP)
Ketchum will see her pay increase by $78 a year, which she said she will put toward her membership at warehouse club Costco, according to the Associated Press.
The richest 1%, meanwhile, will earn an extra $51,000 per year, according to the Tax Policy Center.
Ryan's Democratic opponent, Randy Bryce, used the blunder as a fund-raising opportunity.
"Moments ago, @PRyan deleted this tweet after we told him just how out of touch he was. Show Paul Ryan what you think of his tax bill. Chip in $1.50 now to help us repeal and replace Ryan permanently this November." He linked to a fund-raising page that suggests a $1.50 donation to his campaign.
Social media users and Democratic lawmakers blasted Ryan over the since-deleted tweet.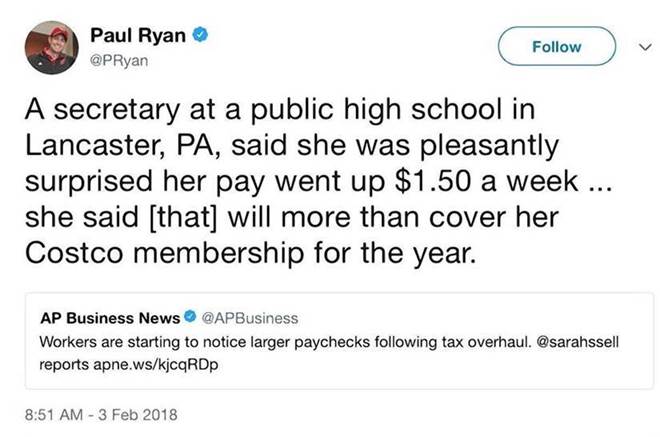 Speaker Paul Ryan on Saturday deleted this tweet about a Pennsylvania woman whose paycheck increased by $1.50 a week because of the recently passed GOP tax bill.
(Twitter)

"$1.50 doesn't even buy you a pack of gum," one Twitter user responded to a screenshot of the tweet.
"We'll work an extra 2 mins a day for our $1.50/wk. Can we have our 1.5 TRILLION back now?" another wrote.
"If only he would delete himself," said another.
Earlier this week, Republicans attacked House Minority Leader Nancy Pelosi (D-Calif.) when she called the payouts after the tax bill "crumbs."
"If you're going to say that $1,000 is crumbs, you live in a different world than I'm living in," Vice President Mike Pence said.
Ryan preserved a second tweet in reaction to the AP story quoting a man saying, "I have heard time and time again that the middle class is getting crumbs, but I'll take it!"
---
End of MPEN e-Newsletter